I am the healthiest person I know, and I got cancer!
- Seema
I am Seema, and I am, or maybe was the healthiest and fittest person I knew. I absolutely did everything possible to be healthy and I thought nothing could physically slow me down until I was diagnosed with breast cancer in Nov 2021. Stage 2 cancer and not more than 2 years old. The last few months since my diagnosis have been a blur and an emotional roller coaster. I was in shock, and maybe I am still. Until a couple of weeks ago, I hadn't spoken about my cancer to anyone apart from my immediate family and a few friends. While I am generally a private person, I also realized while going through all the tests and conversations trying to find the best doctor, that maybe I am not talking about it also because like mental illness, cancer is also a taboo in our country.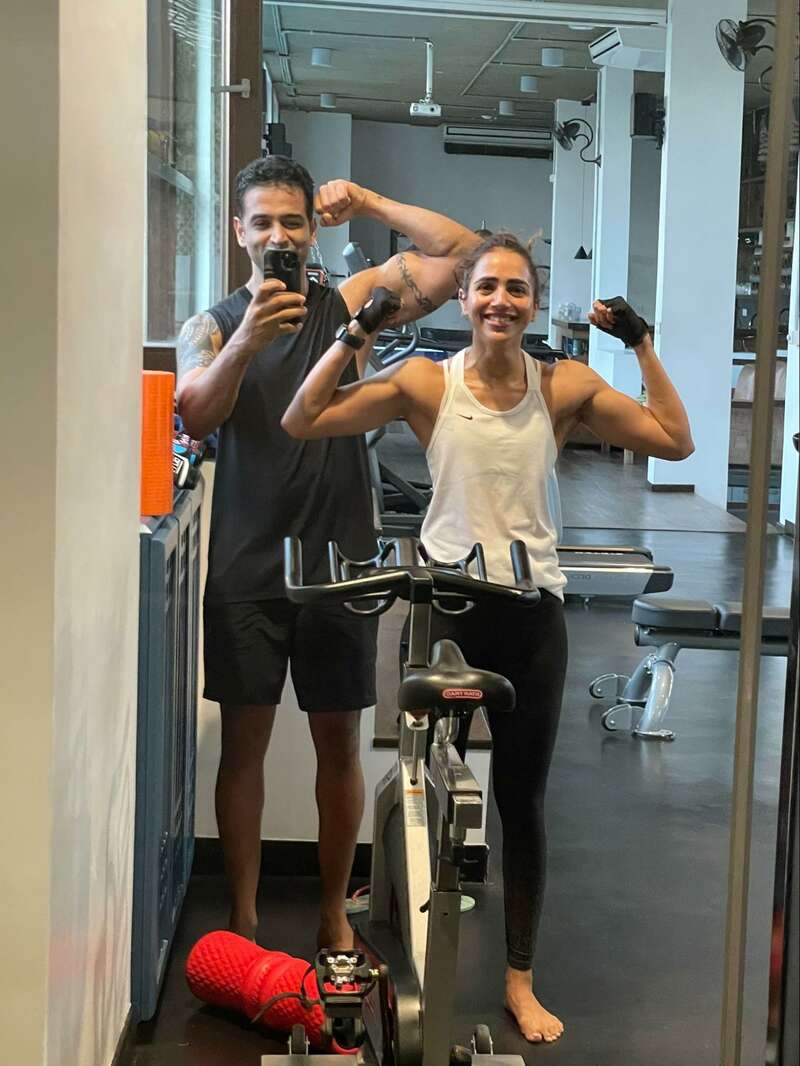 I constantly see my friend Kailash and husband Nithin spend a lot of time and effort open-sourcing and sharing all learnings and knowledge, the only way they say to make the world a better place. So I thought maybe I should lose some of my inhibitions and share everything that I have learnt in the last 4 months, and in hindsight things I could have done better. With all the carcinogenic substances that we get exposed to in today's day and age, the number of cancer cases is only going to go up in the future. Early detection is really our best option, and that I guess can happen only when everyone realizes that it can happen to anyone, even someone with no cancer history in the extended family, a very healthy diet, good fitness routine, good sleep, low stress, and no other health issues.
Backstory
My dad was in the army and lost his fingers in the Kargil war due to frostbite. He retired and settled down in Belgaum where I completed my schooling and college. I have a younger sister and a brother. My sister Meena is also my best friend. I came to Bangalore wanting to be an air-hostess in 2003 and joined a call centre called Dial M as a stop-gap job. This is where I met Nithin, and we started dating in 2004. I joined Air Deccan as a cabin crew member and soon got an opportunity to work at Singapore Airlines. I stayed in Singapore for 5 years, continued my long-distance relationship with Nithin and got married in 2008, coming back to India in 2011 when Nithin had founded Zerodha along with my brother-in-law Nikhil, joining the business to help in whatever way I could. I gave birth to Kiaan, our son in 2015. We stay together along with Nithin's parents in Bengaluru.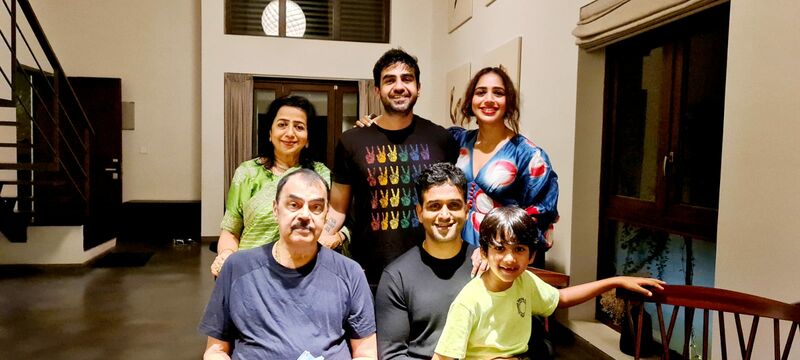 How did I come to know about my cancer?
I have been getting a full-body health check-up done regularly for many years. The mammogram this time showed a small lump in my right breast. Even though I had no symptoms, I decided to go meet an oncologist who did a biopsy, followed by a PET scan which confirmed that the lump was cancerous and was localized to the breasts. I have since then spoken to many oncologists and all of them just reiterated the same - how important regular health checkups are. Today, cancer is curable, unless it is too late before it is spotted. I have been using every opportunity to talk about the importance of health checkups, even if you look and feel healthy. As a takeaway from reading this, I would love it if you could talk about the importance of regular health checkups to as many people as you can.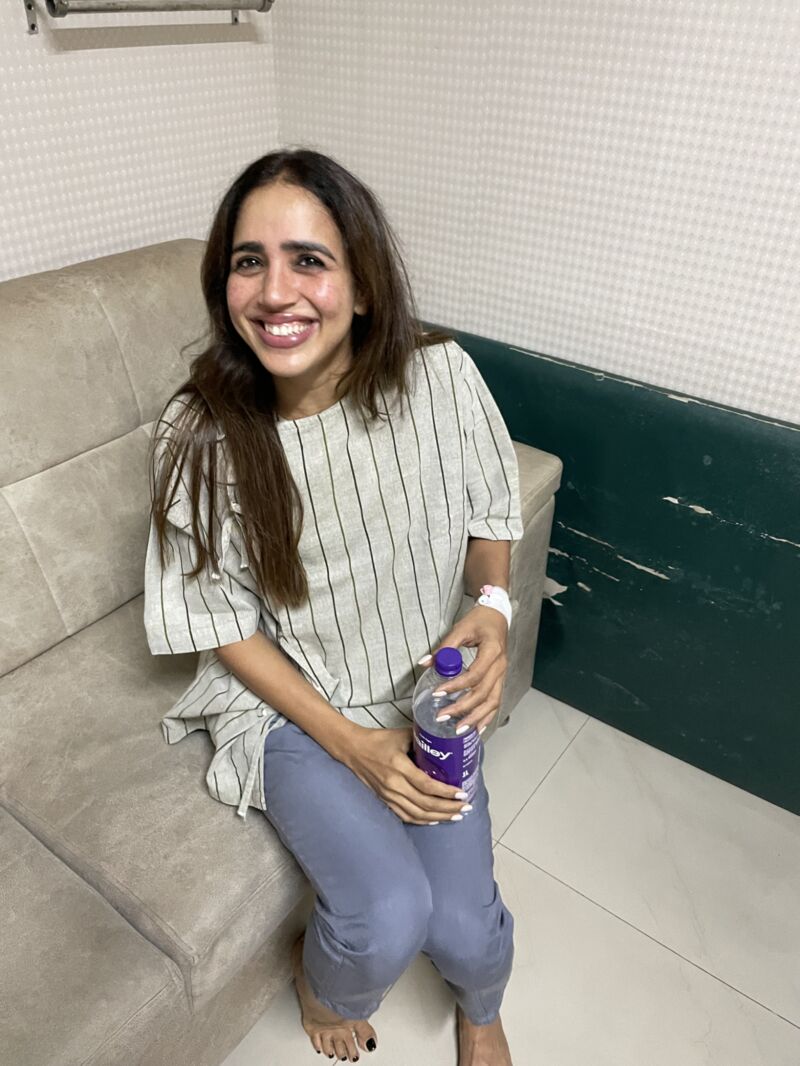 Could I have done something differently?
I potentially could have spotted this earlier. I noticed a slight bit of deformity in my nipples over the last 2 years. I was told that this could be because of breastfeeding. In my annual checkup the year before, the shadow of the breasts seemed slightly abnormal during one of the tests. But the results said I am alright and I believed that there couldn't be anything wrong with me. Maybe I should have done a mammogram back then. And yeah, a mammogram isn't part of all health check-ups, something I hadn't really cared about, maybe I should have.
What next - the confusion & chaos
As soon as we realized that I had cancer, there was almost instant chaos and confusion. What to do next? Nithin, and especially Nikhil who somehow seems to know everyone, started reaching out to anyone with a medical background to help figure out what next. We spoke to doctors from across the world, and many who have or had cancer in the past. Selecting which doctor and hospital among the barrage of suggestions was an extremely complex decision, made tougher because of the financial freedom that I have.
While we could travel outside India to some of the most popular cancer hospitals around the world for treatment, we decided that it is better if I was treated in India itself. We gained this confidence after interacting with doctors locally and internationally, and realizing that many of the large hospitals in India have access to the same equipment, and doctors here have the experience of having treated a lot more patients. The entire treatment process also seemed to be much faster in India. I could potentially get caught in long waiting queues for various treatments and procedures abroad, and I wanted to start and complete my treatment as soon as possible.
Looking back until now, this decision feels absolutely right. I would like to use this opportunity to thank Ranjan Pai, my doctors Dr. Somashekhar, Dr. Amit, Dr. Ashok, Dr. Richa, and all the nurses and staff at Manipal Hospital, Bengaluru.
The surgery
Among the many shocks that I have had to go through in the last 4 months, the biggest was when I was told that I need to go through a mastectomy. That my right breast cannot be saved when the surgery is done to remove cancer. While the cosmetic aspect shouldn't ideally have even bothered me when there was a much bigger issue of cancer in my body, it did! The frustration only got bigger when every doctor I spoke to just spoke about cancer and not how I would look. It took me a few days to make peace with it, maybe it got easier when in one of the conversations the plastic surgeon mentioned how many Bollywood and Hollywood heroines get a boob job done. And thus my mastectomy & cancer treatment became my boob job event for Nithin. 😀 All the fun and fooling around has made my last 4 months a lot less tough than what it could have been.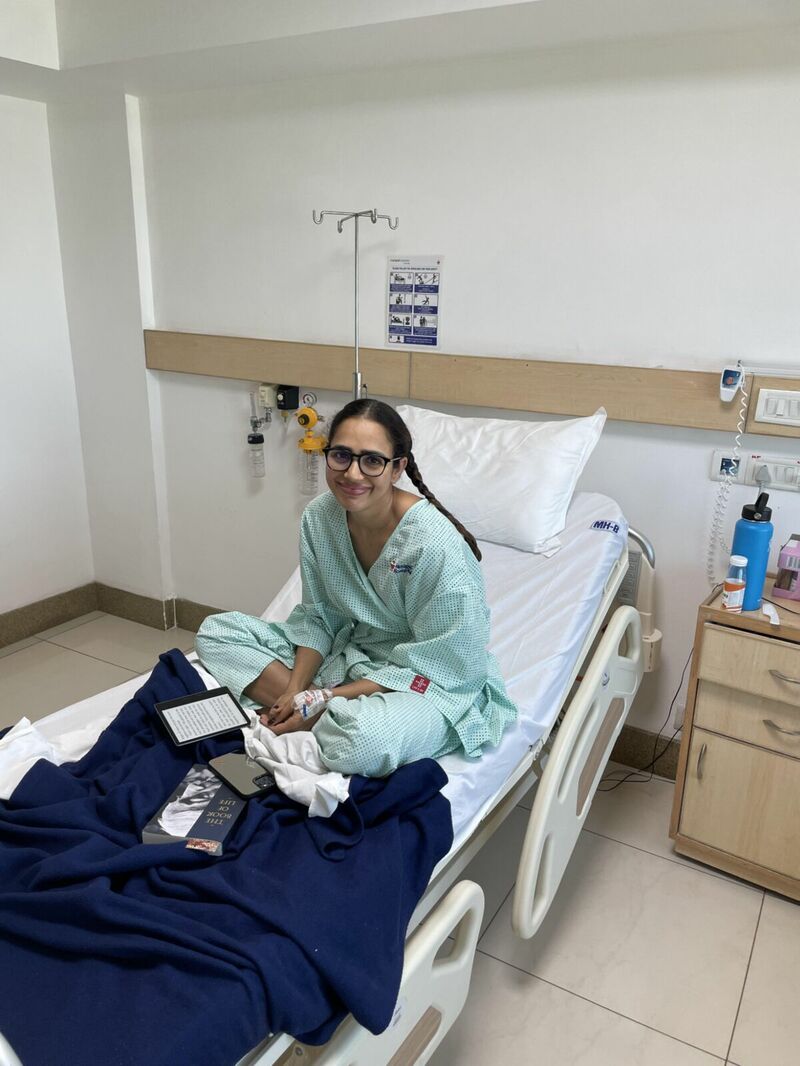 Post-surgery recovery
I had pipes fixed near my armpits and breasts that were connected to a container to collect waste fluids for almost 3 weeks. I had constantly questioned myself on why I should have cared for my diet and fitness as much as I did if someone like me could get cancer. I soon realized how important it is to stay healthy, apart from a thousand other reasons, you can also bounce back much faster if there were any unforeseen incidents, like the mastectomy in my case.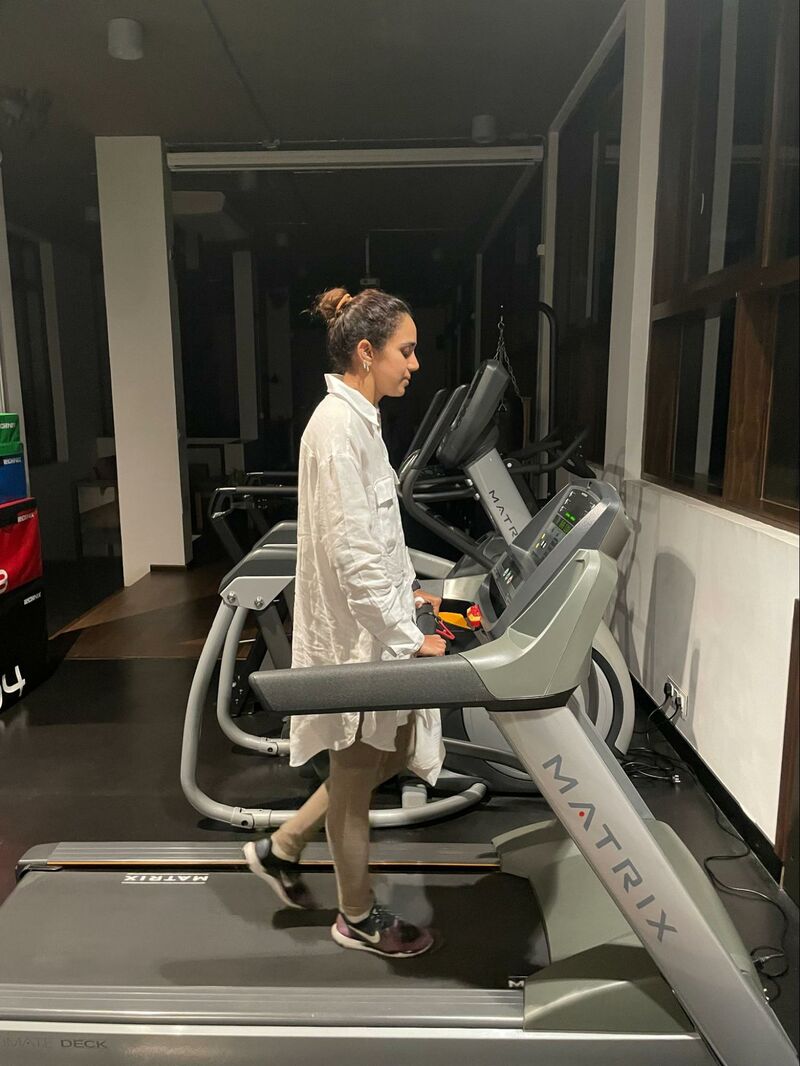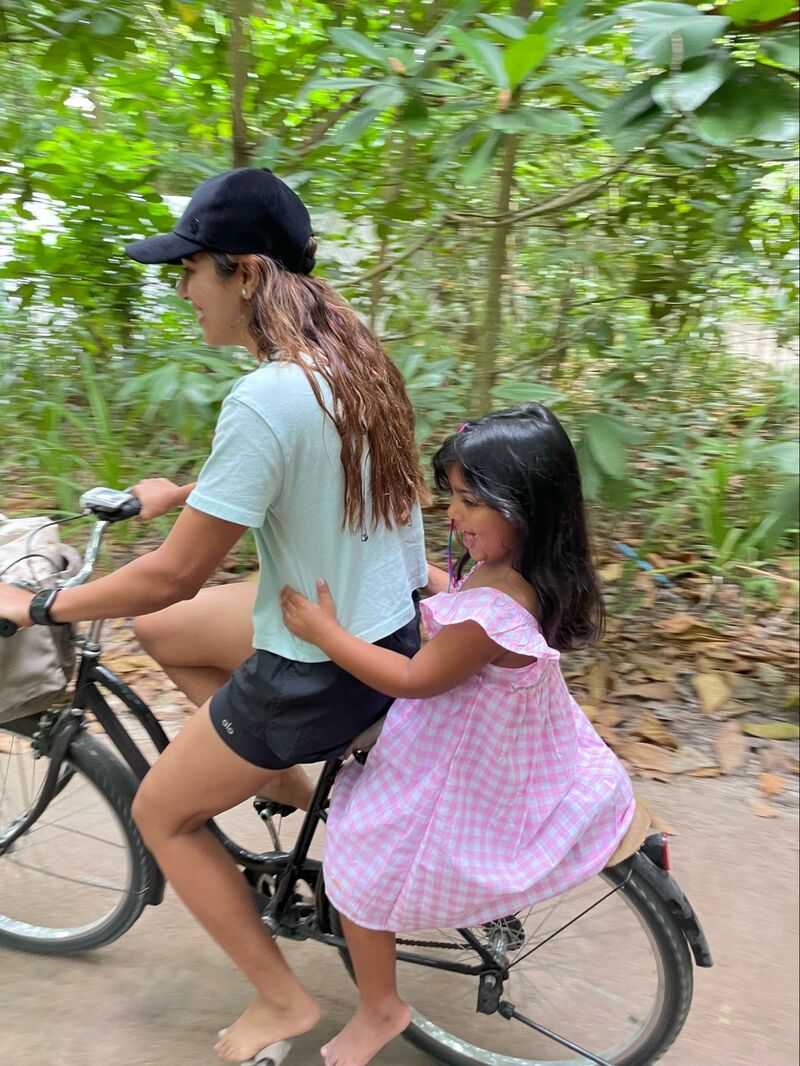 As cliché as it may sound, health really is wealth. All the money in the world can't buy you perfect health, and it is crazy how many just ignore it. Small changes to diet and physical activity can go a long way in improving health.
Run over by a truck - The Chemo!
The initial diagnosis was that my cancer was spotted early and it was the type that wasn't spreading too fast. So, the mastectomy followed by a few radiation sessions maybe would be sufficient. During breast cancer surgery, a few lymph nodes are usually removed to see if cancer has spread outside the breasts. One of the four lymph nodes that were removed tested positive, which was still not concerning considering the type and stage of cancer. The doctor decided to do a test called the Endopredict test to determine the chances of recurrence of cancer, which could also help determine the next course of treatment. And the results said that the chances of recurrence was high, which meant that I would now need Chemotherapy! I thought the worst was behind me after the surgery and I couldn't have been more wrong.
The plan was 4 Chemo sessions at intervals of 21 days each, followed by 20 days of radiation. But before the Chemo started, there was another surgery to implant a port near my left shoulder to deliver the Chemo medicines. The port being permanent (up to 5 years) is more convenient than IV (intravenous) which is temporary. While the port implant surgery was supposed to be easy, it wasn't as easy. I am still not used to having an external device in my body.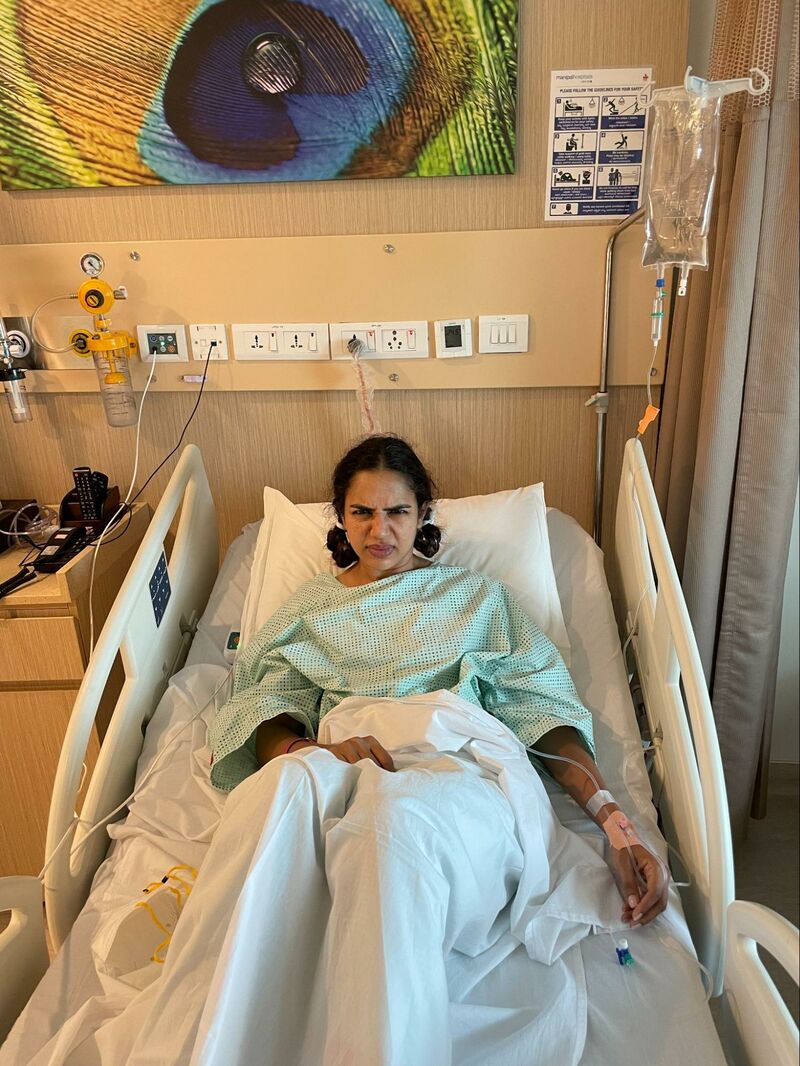 The doctor said that one of the side effects of the Chemo drug was the hair loss. Once again, no other side effects that the doctor spoke of registered in my head, except the hair loss. I loved my hair and never thought of my head without it. I guess Nithin also figured that this losing hair could be psychologically more disturbing than everything else I was going through. So we started figuring out our options, which was really only one - the ice cap. But the doctor said it will only help to reduce hair fall by a bit, but I could still lose hair in patches. So I decided against it and to go with the flow. I did land up for my first Chemo session with a boy cut, thinking maybe it will help seeing shorter hair fall off vs longer.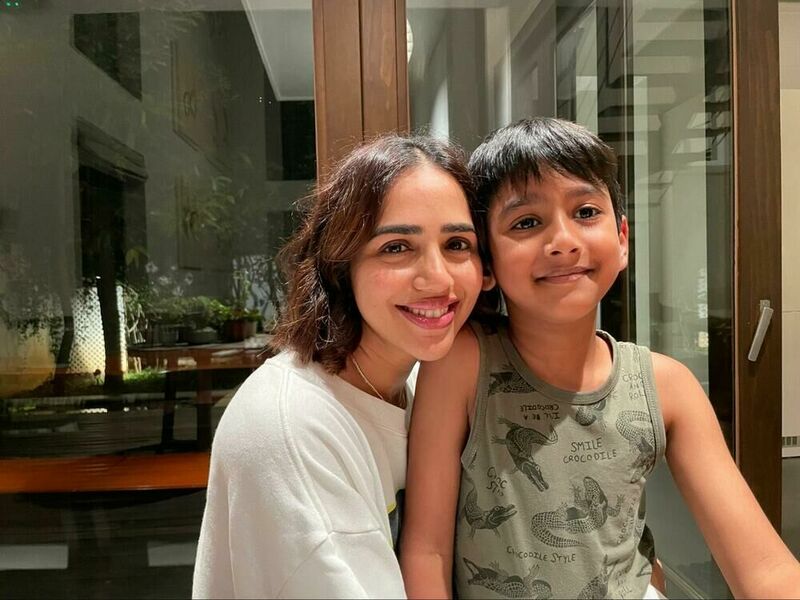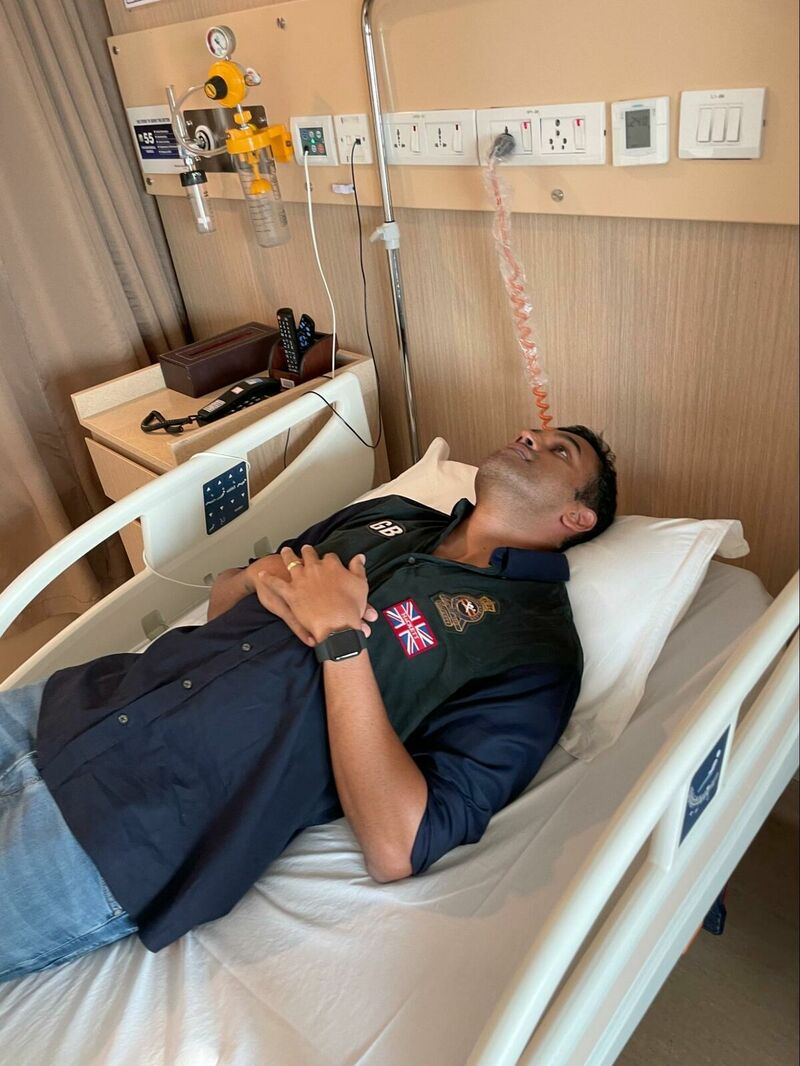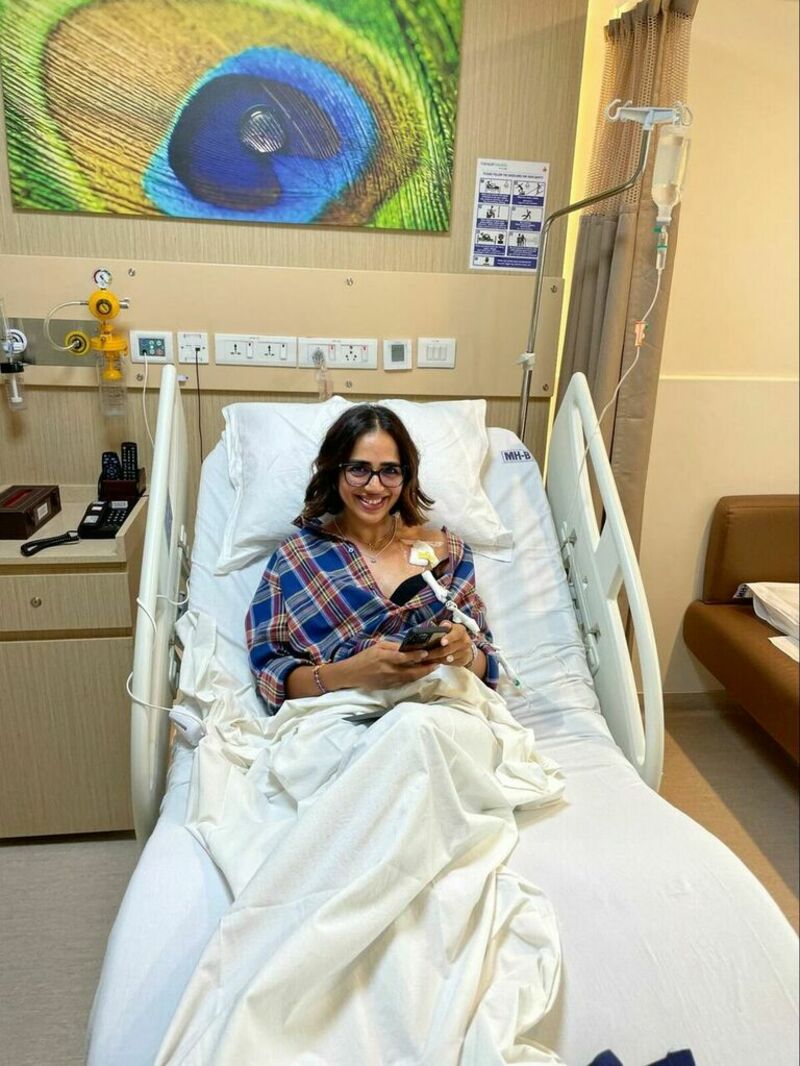 So the good bit of my Chemo is Docetaxel, one of the Chemo drugs that has high alcohol content and makes me feel intoxicated. It is almost like a welcome drink to hell that starts in two days. Yeah, surprisingly I experienced nothing for the first two days after Chemo and I thought ah this isn't too tough, and then suddenly it hit me. It felt like being run over by a truck for the next 5 to 7 days. Weakness, joint pain, diarrhoea, constipation, nausea, no sense of taste, and more. But thankfully it ended within 7 days. Since the chance of contracting an infection is the highest when in chemo, I am advised not to go to crowded places and to only eat fresh home-cooked food. While not being able to travel is an issue, I never liked outside food, so thankfully don't really feel like I am missing anything.
Chemo drugs kill all growth cells within the body, which means that I am quickly losing muscle mass and feel tired much faster. I still try to get some form of exercise, not just for my body, but for my mind as well. Trying to do whatever to feel normal.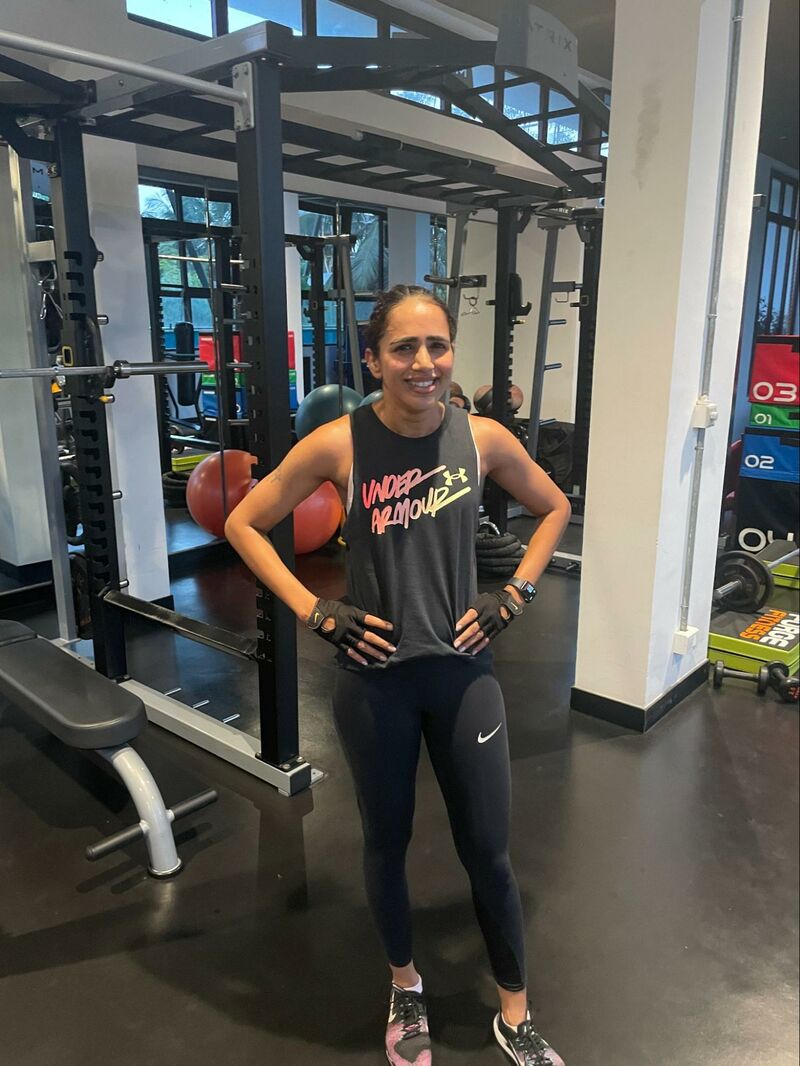 While I could see some hair loss in the first-week post-chemo, around 14 days into it, I started losing hair fast. While using a wig is an option, and by then Nithin had already spoken to a bunch of wig manufacturers, it just didn't feel right. By now, both Nithin and I have spoken multiple times about how cancer is taboo and why it is important for those affected to speak openly about it.
And so, we both went bald at the same time. Nithin has agreed to remain bald until my hair grows back again, which is apparently 2 to 4 weeks after my last chemo session. Having a bald Nithin around me has helped me now make me like my new hairstyle. I might just end up continuing to remain bald even after my chemo.
Surprisingly Kiaan seemed to be the most affected by me going bald for the first couple of days. This apparently is quite common with kids, because they find it embarrassing having a mother with no hair. But he got over it quickly, and I think not wearing a wig or trying to hide my bald head, but instead being confident and making it feel like my new cool hairstyle helped. Even though he is 6 years old, surprising how understanding he has been after knowing about my condition, treatment and side effects. Talking to him openly has definitely been the right thing to do. But, when I ask him if he will go bald for me like Dada, he says no. 😬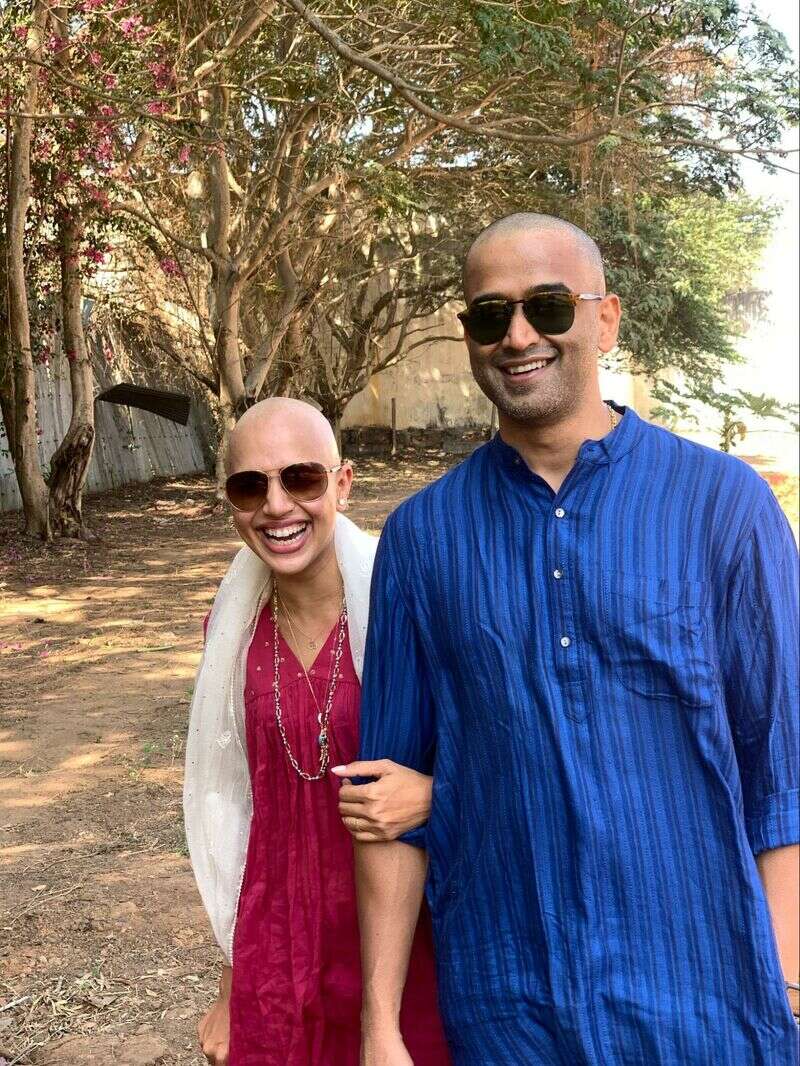 The effects of my second chemo session are almost as bad as my first session. Hopefully, my body is used to the drugs and the 3rd and the 4th sessions are easier on my body.
Why tell this story?
Apart from addressing the core issue of cancer being a taboo, and hopefully getting others to come out and share their experiences as well and spread awareness, there are a few other learnings to share as well.
What doesn't kill you makes you stronger - A phrase that we have used constantly at work when we have hit rough patches. We, humans, are resilient and almost always come up with some way to get over problems. But that can happen only when we have the intent and resolve to get over the problem, however big it is. I hear Nithin always talk about making peace with the worst-case outcome and then there is so much more clarity to life. And for anyone going through cancer or whatever large problems in life, I guess the key is to remain positive and hope that the worst is behind us. It is usually the mind that gives up before the body, and we cannot let it happen.
Importance of regular health checkups - All of us tend to react only when there is an event. The best way to solve problems is before they happen. I want to again reiterate the importance of health check-ups. If I didn't do my check-ups regularly, maybe I would have spotted cancer too late. And yes, regular health check-ups even if you can run 10 km in sub 40 mins.
Importance of a good health insurance policy - The one thing I didn't have to worry about over the last few months is how much treatment would cost. I can't imagine the choices I would have been forced to make if I was worried about finances. At every step in the last few months, my health insurance policy would have covered almost all of my medical expenses, which has been quite a bit. I can't imagine how a family at or below middleafford this without health insurance. So, please make sure to have a comprehensive health insurance policy to cover all health conditions.
The support system - I have been super lucky to be around friends and family who haven't made me feel like this is the end of the world. The reason I am in a positive frame of mind is also maybe because of this. The experiences I have recounted here are all on a positive note. The photos are all upbeat, including the ones post-surgery and chemo. I would like to reiterate that while I have been lucky in many aspects including my physical fitness, financial freedom, support system, that have all helped me, this journey can be much darker and more traumatic for many, who are not as lucky. This is why, if you have friends or family who are going through serious health issues, you should do whatever to make them feel normal and help them gain the courage to look forward to a better future. Like I mentioned earlier, the mind usually gives up before the body and the support system should do its best to not let that happen.
I will probably write again in a few months from now sharing the experiences of my 3rd & 4th Chemo, my radiation therapy, and what helped me get better. Finally, I'd like to thank Nithin for putting all my thoughts into an article and everything else. Also want to thank everyone who has helped me in the last 4 months in some way or another - Kiaan, Meena, Nik, My parents, My in-laws, Nandu, K (Kailash), Deepa, Sunaina, Roopa, Padma, Mani, Bharat, Aishwarya, Shweta, Karthik, Ashwini, Shoaib, Dr Soumya Holla, Kiran Mazumdar, Jyoti, Richard, Joanne, Austin, Sheemain, and Deepa Aradhya.
It is during our darkest moments that we must focus to see the light - Aristotle
Addendum (17 Mar 2022): Thank you everyone for your overwhelming support. I have been getting a number of questions on regular health checkups and health insurance, so I asked Shrehith, an expert on insurance, to share some pointers. He has written an article on it here.